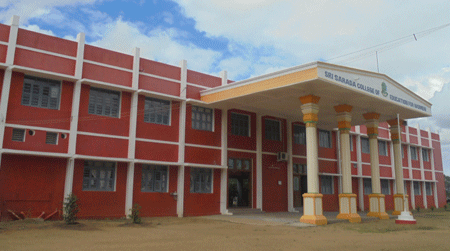 SRI SARADA COLLEGE OF EDUCATION FOR WOMEN, TIRUNELVELI was started on 24th September 2007. It is a Self-Financing College affiliated to Tamil Nadu Teachers Education University, Chennai and recongnized by NCTE, SRC, Bangalore. The College is accredited by NAAC with 'B' Grade. It is housed in a well furnished building as per the NCTE norms. The campus is situated in a 82 acres land along with its sister concerns. With its scenic beauty, tranquil and serene atmosphere it refreshes the learners and completely condutive for Education. The College has a track record of providing good quality teacher education. It also serves as one of the Programme Study Centres of the Indira Gandhi Open University, New Delhi and as the Examination Centre for Tirunelveli District. The college strives for excellence by providing a multifaceted educational programme that enables the students to have a harmonious development of the Hand, the Heart and the Head. The college offers Two years B.Ed. Degree course with Pedagogy of Tamil, Pedagogy of English, Pedagogy of Mathematics, Pedagogy of Physical Science, Pedagogy of Biological Science, Pedagogy of Commerce & Accountancy and Pedagogy of History as optional Subjects.
OUR VISION
Our College aims at the integral formation of competent, committed and value based prospective teachers with discipline.
OUR MISSION
To produce value based and socially responsible teachers with initiative and integrative nature.
To develop and produce the teachers befittingly with physically fit, emotionally balanced, spiritually and culturally serene mentors.
To propagate moral and spiritual values.
To accomplish the all round development of the will, emotion and cognition of the students through curricular, co-curricular and extra-curricular activities.
To encourage and enlighten the students for excellence in higher education and research.
To reach the un-reached in intellectual, traditional and cultural facets.
To instill love of the mother land and an eager intent to invigorate her through active service.
To inculcate a sense of unity and respect for all religions coupled with firm adherence to one's own religion.
OBJECTIVES
To develop the self-concept of student teachers through cultural competitions and extension lectures.
To train them in ICT based methodology.
To mould them physically, mentally, morally, socially and spiritually fit as 'Nirai Nangaiyar - the Perfect Women'.
To assist them in getting suitable placement in future.
To prepare the student teachers for community service and national development.
To make them socialized citizens.
SALIENT FEATURES

Regular Classes
Healthy and conducive Environment
Qualified and dedicated teacher Educators.
Surrounded by Green belt.
Spacious ventilated class rooms and laboratories.

RO Water
Transport Facility
Seminars / Workshops / Guest Lectures
Crash Courses
IGNOU Certificate Courses

M.A Education by IGNOU
Certificate / Diploma in Gandhian thought
Value Education Classes
Medical Facilities
Hostel Facility